In a recent study of nearly 400 business leaders in the US, the top 5 most important issues were:
• Recruiting quality individuals
• Improving staff productivity
• Managing retention and/or turnover
• Improving morale
• Upholding ethical standards
When you also consider the following recent Bureau of Labor statistics, its clear why the most important business issues are all employee related:
• Two of three new hires will disappoint in the first year
• Two of three employees would rather work somewhere else
• Ninety-five of 100 applicants will "exaggerate" to get a job
• Most hiring decisions are made in haste-during the first five minutes of an interview
• One of three businesses will be sued this year over an employment issue
• Eighty percent of employee turnover is avoidable

Hirematch OPM is a custom selection management process that guides you to the absolute best hiring decision.
HOW DOES IT WORK?
Hirematch OPM technology combines traditional selection methodology with validated assessment technology that allows you to benchmark your top performers in any role and create a Job Match pattern to use in your selection process. In essence, Hirematch allows you to hire more people like your very best!

The process is very simple and can easily compliment your current employment process strategy. Hirematch gives you the ability to customize Job Match by organization, department, or position. The technology is very easy to use and very cost effective. It can be administered online, with no proctoring, and the results are presented in very easy-to-read reports and can be emailed to the hiring manger, literally instantly.

Studies show that integrating Job Match and assessments technology give you the optimal success in hiring decisions.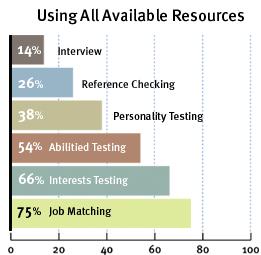 Sources:
Professor Mike Smith
University of Manchester

John E. Hunter and Ronda F. Hunter, Validity and Utility of Alternative Predictors of Job Performance, Psychological Bulletin, Vol. 96, No.1, p. 90; Robert P Tett, Douglas N. Jackson, and Mitchell Rothstein, Personality Measures as Predictors of Job Performance: A Meta-Analytical Review, Personnel Psychology, p.703. Michigan State University's School of Business.
THE PROCESS:
Identify "top performers" by position, department, or organization. Assess these individuals and create Job Match pattern

Interview, screen, test candidates

Assess your quality candidates

Create Job Match Report

Select the best overall fit candidate on dozens of match levels.
Hirematch OPM technology can be use for Direct Hires, Temp-to-hire, or Temporary positions.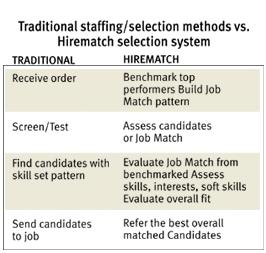 The Hirematch selection system allows you to maximize your investments in Human Capital by combining the proven success of assessments to guide you to hire more like your very best.

WHO CAN USE HIREMATCH?

Literally any organization that is searching for new talent and understands the importance of matching the best candidate to the job. Hirematch OPM technology has been used by HR professionals and Hiring Managers selecting: executives, salespeople, customer service professionals, manufacturing/industrial, administrative/clerical, and technical.

Hirematch OPM technology gives you the information you need to make the best possible decision. It measures not only skill and aptitude, but occupational interests, soft skills such as cultural issues and fit, honesty, integrity, reliability and dozens of other critical areas for overall Job Match. Hirematch creates easy to read reports and graphs that will give you an overall percentage match for the position, as well as follow up interview questions, and management advice.
THE VALUE OF HIREMATCH TECHNOLOGY:
Reduce Turnover and associated recruiting and training costs

Increase employee retention

Increase performance with a talent-driven environment

Reduce legal exposure

Add to bottom line profitability and organizational growth